:: IN THE MEDIA


Channel 9 'Mornings' National TV Show - 4th April 2012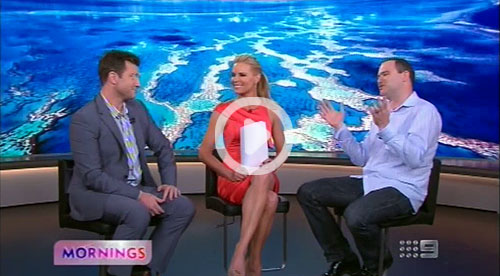 Mark's best-selling
Craigs Hut
and
Reef Dreaming
photograph's both featured on the Channel 9 - 'Mornings' National Television Show as part of a feature segment on Australia's Top 5 Views. The Top 5 Views were voted by a panel of highly regarded Australian photographers and travel experts in Australian Traveller Magazine's '100 Best Views in Australia'.
Click here to view a clip from the Channel 09 'Mornings Show'
Australian Traveller Magazine - April/May Edition 2012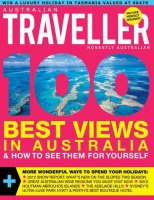 Mark's multi-award winning
Reef Dreaming
photograph of Hardy Reef on the Great Barrier Reef in Queensland was voted 'Australia's Best View' in Australian Traveller Magazine's '100 Best Views in Australia'. The Top 100 Views were judged by a panel of Australia's leading photographers and other travel experts. A number of Mark's other photographs were also voted into the top 42 results:
•
Reef Dreaming
(Hardy Reef, QLD) was voted in at #1
•
Craigs Hut
(Mount Stirling, VIC) was voted in at #5
•
Sacred Waterhole
(Mossman Gorge, QLD) was voted in at #14
•
Sydney Splendour
(Sydney Harbour, NSW) was voted in at #20
•
Pathway To Heaven
(Deepwater Point, WA) was voted in at #35
•
Breathe
(Merimbula Lake, NSW) was voted in at #42
Photography Monthly Magazine - December 2011
The December 2011 edition of UK 'Photography Monthly' magazine features a detailed article on creative use of shutter speeds.
The extensive article is co-written by Mark Gray with his 2 page contribution featuring some great ways to use shutter speeds creatively in landscape photography. The article also features a selection of Mark's breathtaking landscape photograph's illustrating these techniques.
Australian Financial Review - September 17th, 2010
An interview with Mark featured today as part of a full page article on the business side of Australian landscape photography in the 'Life & Leisure' section of the nationally distributed 'Australian Financial Review'.
Click Here To View The Article
Digital Photography Magazine Volume 11 - June 2010
Published in June 2010, this edition of 'Digital Photography' magazine Volume 11, focuses on landscape photography and features an 8 page article on Mark Gray, also showcasing 12 of Mark's stunning photographs.
Herald Sun - 6th March, 2009
Mark Gray's 'Secrets Of The Great Ocean Road' photo tour featured today as part of a cover story in the 'Extra Go' travel section of the Herald Sun, one of Australia's most widely read newspapers. The 2 page article focused on the best ways to photograph the many highlights and secrets of the Great Ocean Road and was compiled by high profile photojournalist Ewen Bell.

Click Here To View The Feature Article
Channel Seven's Today Tonight - 25th November, 2008
An interview with Mark featured on Channel Seven's Australian current affairs TV program 'Today Tonight'. During the interview Mark runs through some interesting experiences that he has had booking accommodation for his extensive travels.
3MBS 103.5FM - 12th November, 2007
A radio interview with Mark Gray discussing his approach to capturing stunning cityscape photography featured on Melbourne's first FM radio station 3MBS 103.5FM. The 'Accidental Arts' program aired the interview with Mark between 11:30am - 12:00pm on Saturday the 24th of November, 2007.
Australian Photography Magazine - October, 2007
The October edition of Australian Photography Magazine contains a write up on Mark Gray and his photography, including some background information and Mark's plans for the future. Australian Photography Magazine is Australia's best selling photography magazine.
Outdoor Photography Magazine UK - May, 2006
Our website was awarded 'Website Of The Month' in the May edition of the UK's Internationally distributed 'Outdoor Photography' magazine. Featuring a brief glowing write up on Mark's photography and our website, we were awarded 4½ Stars.
::
Return To Top